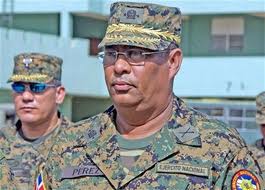 Haití volverá a tener ejército: presentaron el primer contingente de la fuerza
Haiti deploys first military contingent in effort to establish new force
Haiti's president, Michel Martelly, recognized on Thursday during an official ceremony the first military contingent of what will become the new security force the Haitian leader promised to establish, following the dismantling of the Caribbean country's army 18 years ago.Forty-one military officers and technicians, including 11 engineers, will be deployed along with Ecuadorian Blue Berets in the northern Artibonite area, where they will undergo field training in engineering works and other practices that will be part of their mission in Haiti's new security force."In welcoming you here today, engineer-officers and technician-soldiers, I have the exhilarating feeling that I am resurrecting the Haitian military engineering body," Martelly told an audience made up of military, government officials and other dignitaries at the presidential palace on Thursday.
The 41 newly-graduated recruits received training at the Eloy Alfaro military school and Los Vencedores del CENEPA of Ecuador during the past ten months.
The Haitian defence minister, Rodolphe Joazile, said the new Haitian military will be used in border surveillance, the fight against contraband and other illicit activities, civil protection, disaster preparedness and environmental protection work.
"President Martelly promised, during the electoral campaign, to reinstate the military and this is a concrete step toward that goal," Joazile told HCNN.
The Haitian military will take over from the Ecuadorian contingent in the Artibonite area after the completion of their training and the departure of the Ecuadorian troops.
Several national and international sectors had expressed reservation about the opportunity to rebuild the Haitian army because of its past of repeated human rights abuses, bloody coup d'états and other violations but Haitian authorities insist that this force will be different.
"This will be a new force with a different approach and philosophy because the military will have no opportunity to get involved with human rights abuses," Joazile said. "They will be there only to serve the population," he said.
Haitian authorities expressed gratitude toward Ecuadorian president Rafael Correa for his assistance.
http://www.caribbeannewsnow.com/topstory-Haiti-deploys-first-military-contingent-in-effort-to-establish-new-force-17542.html