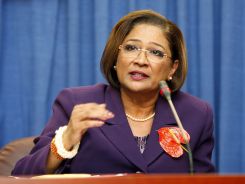 Primera ministra niega desvíos de fondos de la FIFA para financiar campaña electoral de 2010
PM: My hands are clean, my heart is free
PRIME Minister Kamla Persad-Bissessar yesterday denied allegations by former United National Congress (UNC) chairman and government minister Jack Warner that funds from FIFA (Fédération Internationale de Football Association) were used in 2010 for the political campaigns for the UNC's internal elections and the general election.
Persad-Bissessar also said the UNC may consider an audit of its finances, given the fact that Warner has been indicted by the US government for wire fraud and money laundering.
She said any personal allegations Warner made about her will be placed in the hands of her attorneys.
"I keep saying my hands are clean and my heart is free. I am not concerned. Kamla received no funds from Mr Warner," she told the media at her home.
"I deny any FIFA funding was used to the campaign of the UNC and of the People's Partnership. Any allegations about me, I place those in the hands of my ­lawyers.
"Given all these indictments coming down with Mr Warner, we will consider whether we should do an audit of any funds for the UNC in respect to that," she said.
"No one would have known whether or not it was FIFA funding. I have cheques in my possession where people made donations to the UNC, but they commingled and ran through some account by the name of JAMAD or something.
"The party will take up those issues. I know he released some cheques about JAMAD which were deposited to Mr Ross. Mr Ross runs an advertising agency as others and is free to contract and make arrangements with persons and companies to their own benefit and promotion. I am not concerned."
At public meetings over the last week, following his arrest and appearance in court for fraud and money laundering charges while he was vice-president of FIFA, Warner sent a message to Persad-Bissessar that "the gloves were off" and that he had evidence he financed her campaign in the party's internal elections and then the 2010 general election.
Persad-Bissessar said with regard to whether FIFA funds may have financed the UNC or the People's Partnership, the party will issue a release to answer those allegations.
"With respect to the party, the party will answer in due course," she said.
"It is his plan to distract from the major issues that he is facing. He is trying to involve us in a political dimension, but the greater dimension is the legal and justice dimension," she added.
The Prime Minister said she spent the Corpus Christi holiday yesterday with her family, planting various trees and flowers in her garden.
Trinidad government threatened with 'avalanche' of secrets
Former FIFA vice president and Trinidad member of parliament Jack Warner, in a paid political broadcast on Wednesday, threatened to reveal an "avalanche" of secrets compiled in a series of documents that he claimed prove links between FIFA and the Trinidad and Tobago government.
"It also deals with my knowledge of international transactions at FIFA, including – but not limited to – its president, Mr Sepp Blatter, and, lastly, other matters involving the nation's current prime minister," Warner said.
He has not yet produced any documentation to support his allegations.
Warner was arrested in Trinidad last Wednesday following his indictment in the US on racketeering, corruption and money laundering charges and held in jail overnight, but was released on bail the following day. He is now the subject of an Interpol 'red notice'.
Following his release on bail last Thursday, Warner also claimed in a public meeting that night that he had documentation that could prove a link between FIFA officials and the 2010 election in Trinidad and Tobago.
Warner is said by US law enforcement sources to have rejected the possibility of a plea bargain in return for his testimony but has apparently decided instead to threaten the Trinidad government, a strategy that seems to make little sense since it is the US government that has indicted him.
Meanwhile, a transcript of the 2013 plea hearing of former US FIFA official Chuck Blazer, which was unsealed on Wednesday, revealed that Blazer – who provided information that helped lead to last week's indictment and arrest of Warner and 13 other individuals – told a US federal judge in Brooklyn that he had agreed with others to facilitate bribes in selecting the hosts for World Cup and other football tournaments.
According to US law enforcement sources, Blazer secretly recorded more than 300 hours of meetings with FIFA officials and others that have provided US authorities with a treasure trove of incriminating evidence. Anything Warner may have to offer in this respect may therefore be redundant.
Following the high profile arrests, the FBI is now investigating the controversial awarding of the 2018 and 2022 World Cup tournaments to Russia and Qatar. Swiss authorities had previously announced they were investigating the 2018 and 2022 bids.
FIFA president Sepp Blatter, who announced his intention to resign from his position on Tuesday despite being re-elected just four days previously, is reportedly also under investigation by US authorities as part of the same probe that led to the arrest of seven FIFA officials in Zurich last Wednesday, and the indictment of a total of 14 individuals worldwide.