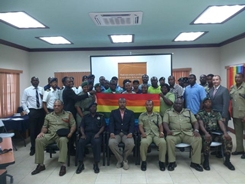 San Cristóbal y Nieves: capacitan a fuerzas de seguridad en el trato a comunidades LGBT y religiosas
Security personnel participate in LGBT Sensitivity Training
LAW enforcement officers and other security personnel in St. Kitts and Nevis have completed a four-day sensitivity training package in Lesbian, Gay, Bisexual and Transgender (LGBT) and dealing with individuals in communities who are most vulnerable.
The course, which ran from June 9 to 12, was attended by officers of the Royal St. Christopher and Nevis Police Force and members of the Customs and Excise Department, Fire and Rescue, Her Majesty's Prison and the St. Kitts-Nevis Defence Force.
Police Press and Public Relations Officer Lyndon David gave an overview of the course at the Closing Ceremony, which was held in the Conference Room of the Customs and Excise Department on Friday (Jun. 12).
"The course was about LGBT Sensitivity Training for police and community stakeholders. This is a course that really brought sensitivity to us as law enforcement police, military, prisons and customs in terms of dealing with persons of varying communities in our Federation and beyond.
"In recent time, we have seen where law enforcement is caught up in dealing with different people with reference to their varying backgrounds. This training enlightened us and taught us that we in the law enforcement and security services have to treat people with equity and not equality."
Assistant Commissioner of Police Vaughn Henderson, in brief remarks, lauded the initiative and highlighted that education would give a better understanding of one's beliefs.
"I think it is timely and I believe that education brings a deeper understanding for people of different beliefs, different cultures and different sexual orientation."
He indicated that the Constitution of St. Kitts and Nevis speaks to the issue of discrimination.
"Discrimination is an issue that is widely discussed internationally and our Constitution, in Chapter Two, speaks to constitutional rights and it says that no person shall be discriminated against for their religion, their beliefs, cultures etc. We are bound by our constitutional ideals and the rule of law, and so everything that we do must encapsulate those ideals."
Henderson then called on the participants to apply what they learnt into their workplace.
"I think it is indeed essential that we apply the knowledge that we have been taught. And I am certain, with Maurice and Tom at the forefront, learning took place."
Course facilitator Maurice Tomlinson declared that, so far, it had been the most successful course.
"This is the best reception we have had, and we have done this training in Suriname, Barbados and St. Lucia. We are very happy that you have taken the time to come here and show your solidarity with this very important initiative."
He also gave the rationale why the course is important to security personnel.
"We are interested as an HIV and AIDS organisation to eliminate all barriers to the HIV and AIDS response.
Tomlinson added that being Canadians, they are particularly interested in the Caribbean because many of them regularly visit the region during the winter season and other times of the year.
"The issue of HIV and AIDS is particularly troubling for the region because we have the second highest HIV prevalence rate in the World. But we do not get nearly the same amount of funding to fight HIV AIDS as other regions.
"This means we have to allow people who are vulnerable within the margins, undesirable maybe, because they have a different orientation, gender identity, or they engage in work we don't approve of, they use drugs, and all of these communities are vulnerable," Tomlinson explained.
He stated that in Jamaica the HIV rate of men who have sex with men is one of the highest in the Western Hemisphere, if not the world.
Tomlinson noted that the reason for the Jamaican situation is that those men do not feel comfortable coming forward.
"We know the situation is particularly chronic in the smaller islands because it is harder to be visible. We are trying to create an enabling environment where they feel comfortable being themselves so that they can come forward and access the services that they need. The programme is structured in a way that not only delivers human rights training, but general strategic community policing so that it can be applied to any group that is vulnerable."
He then highlighted some of the topics covered on the course.
"There is a focus on what is community policing, what is the human rights of all citizens, what professional ethics involves, and then we applied that to the LGBT community and we looked at vulnerabilities for that community.
The facilitator pointed out that plans are afoot to conduct the course throughout the Caribbean region, reiterating that "this has been the most successful training, and the training is done in a deliberate fashion called a Trained Trainer Model".