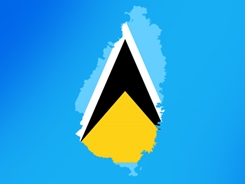 Anuncian apertura de embajada en Taiwan: la primera del país en el continente asiático
St. Lucia set to open embassy in Taiwan
St. Lucia is scheduled to open an embassy in Taiwan Thursday, which will be the Caribbean country's first embassy in Asia, according to Taiwan's Ministry of Foreign Affairs, which described it as a move showing the strength of bilateral ties with the diplomatic ally.
The inauguration ceremony for the embassy in Taipei will be presided over by St. Lucia Prime Minister Kenny Anthony, who is on a June 1-5 visit to Taiwan, the ministry said.
The ministry added that it expects the establishment of the embassy to help advance bilateral trade relations and people-to-people exchanges.
Receiving Anthony at the Presidential Office Wednesday, President Ma Ying-jeou (馬英九) said it is an honor for Taiwan to be the first country in Asia in which St. Lucia has an embassy.
Ma also expressed gratitude for St. Lucia's support for Taiwan's participation in the United Nations' specialized agencies such as the International Civil Aviation Organization and the World Health Organization.
During the visit, Anthony is also scheduled to call on officials in the ministries of foreign and economic affairs and to hold meetings with St. Lucian students studying in Taiwan, the ministry said.
Anthony is leading a delegation comprising Minister for External Affairs, International Trade and Civil Aviation Alva Baptiste, Permanent Representative of Saint Lucia to the United Nations Menissa Rambally, and other officials, the ministry said. This is Anthony's second trip to Taiwan since he was returned to power in 2011, it added.
In February, Baptiste visited Taiwan to look for a suitable location for an embassy in an effort to strengthen bilateral ties.
The Republic of China and St. Lucia have maintained close cooperation in public health, education, infrastructure and culture since the two countries resumed diplomatic relations in 2007 following a 10-year hiatus.
The two sides first established diplomatic ties in 1984, but St. Lucia switched its recognition to the People's Republic of China in 1997.
Of Taiwan's 22 diplomatic allies, St. Lucia and Saint Vincent and the Grenadines are the only two countries that have not set up embassies here.