Granada: el partido Congreso Nacional Democrático lanza su manifiesto de cara a las elecciones del 13 de marzo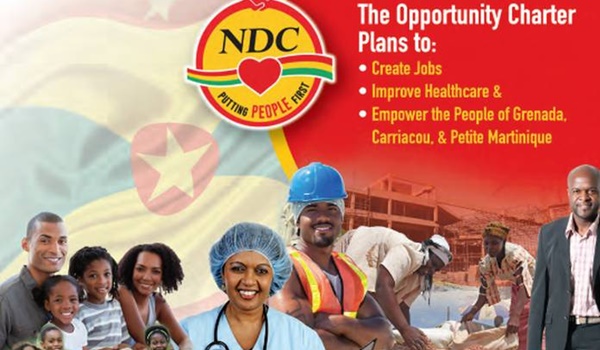 Grenada opposition launches its 2018 election manifesto
The opposition National Democratic Congress (NDC) launched its election manifesto "The Opportunity Charter" in the hope of attracting Grenadian voters' support in the run up to the March 13 general election.
The ruling New National Party (NNP) was due to launch its own manifesto at a press conference last Friday but no details have yet been disseminated electronically.
The NDC announced just ten days prior to the launch that it was inviting members of the public to participate and contribute to the creation of its Opportunity Charter, which it said will be reflective of the wishes of the Grenadian people.
NDC leader, Senator Nazim Burke, stated: "The plans and programmes and the targets we have set are realistic and achievable if we work hard and remain committed to and focused on our mission to build a prosperous Grenada, based on environmentally sound principles, and a just and equitable society."
The statement also went on to make several commitments to the citizens of Grenada, including the re-instatement of the public workers pension scheme; a student loan guarantee programme; and the construction of new hospitals, including a new dialysis centre.
The NDC also pledges to enhance the controversial IMANI programme, and expand it to include skills training in critical areas such as: tourism and hospitality services; agriculture and agri-business; renewable energy development; education health and wellness services; sports, culture and entertainment; and, information and communication technology.
The NDC is fielding candidates for all 15 seats in the upcoming election, with hopes running high that it will be more successful than at the previous election, although winning no seats in 2013 it could hardly be less successful.
In the 2013 election, the party, then led by former prime minister and party leader, Tillman Thomas, lost the government in a second whitewash victory for the NNP, led by the incumbent prime minister, Dr Keith Mitchell, who is running for his fifth non-consecutive term in office as leader of Grenada.
The NDC manifesto is available online for viewing and dissemination at the party's website.