Craig Faller, jefe del Comando Sur de EEUU, se reunió con el canciller de Brasil Ernesto Araújo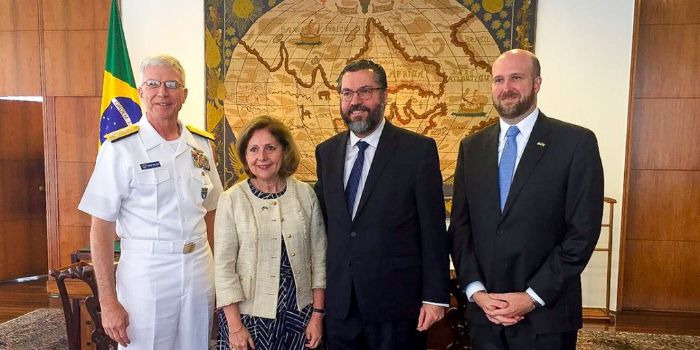 El jefe del Comando Sur de Estados Unidos se reunió con el canciller brasileño
El jefe del Comando Sur de las Fuerzas Armadas de Estados Unidos, almirante Craig Faller, se reunió este lunes en Brasilia con el canciller brasileño, Ernesto Araújo, para discutir cooperación en asuntos de defensa y seguridad, se informó oficialmente.
O ministro @ernestofaraujo reuniu-se hoje de manhã, em Brasília, com o almirante Craig Faller, chefe do Comando Sul dos Estados Unidos, para discutir a cooperação e as parcerias bilaterais na área de defesa e segurança. pic.twitter.com/ahbCQHeW95

— Itamaraty Brasil?? (@ItamaratyGovBr) February 11, 2019
El canciller brasileño, Ernesto Araújo, un defensor público del presidente Donald Trump, a quien considera "salvador de Occidente", publicó una fotografía con Faller en el Palacio de Itamaraty en las redes sociales.
#SOUTHCOM commander Adm. Craig Faller earlier today met w/ Brazil's Chief of the Navy, Admiral Ilques Barbosa Júnior & talked naval cooperation. @marmilbr served as lead of naval forces during last year's multinational PANAMAX exercise. @DefesaGovBr @EmbaixadaEUA pic.twitter.com/QAFfx0hHNr

— U.S. Southern Command (@Southcom) February 11, 2019
El jefe del comando sur estadounidense visitará una de las joyas del desarrollo militar braisleño, la base naval de submarinos de Itaguaí, estado de Río de Janeiro, donde se construye un submarino a propulsión nuclear con tecnología francesa.
O @Southcom é responsável por fornecer planejamento de contingência, operações e cooperação de segurança em sua área de responsabilidade designada, que inclui: América Central, América do Sul e Caribe (exceto comunidades, territórios e possessões dos EUA).

— Força Aérea Brasileira ?? (@fab_oficial) February 11, 2019
---
U.S. Navy Admiral Craig Faller of U.S. SOUTHCOM discusses defense partnership and security cooperation in Brazil
On February 10-13, U.S. Navy Admiral Craig Faller, Commander of U.S. Southern Command (SOUTHCOM), is visiting Brasília and Rio de Janeiro and meeting with civilian and military leaders in order to discuss bilateral security cooperation with Brazilian counterparts in support of regional peace and Western Hemisphere stability. Brazil and the United States, the two most populous democracies in the Western Hemisphere, enjoy an increasingly close bilateral relationship, including increasingly in the area of defense, on specific areas such as research and development, information exchanges, training and education, joint military exercises, and commercial initiatives related to defense matters.
Today in Brasilia, Admiral Faller is visiting with Minister of Foreign Affairs, Ernesto Araújo, the Chief of Defense, Lieutenant-Brigadier Raul Botelho, the Navy Commander, Admiral Ilques Barbosa Junior, the Air Force Commander, Lieutenant-Brigadier Antonio Carlos Moretti Bermudez, and visit the Aerospace Operations Command (COMAE). In addition, he is meeting with Chargé d'Affaires William Popp and other personnel at the U.S. Embassy in Brasilia. In Rio de Janeiro, he will meet with Army Commander, General Leal Pujol, visit the Airborne Brigade at Vila Militar, tour the Multi-purpose Helicopter Carrier, Atlântico, and also visit the Itaguai Submarine Base.
The Admiral's visit to Brazil follows earlier visits to the South American nation by Vice President Mike Pence, former Secretary of Defense James Mattis, and Secretary of State Mike Pompeo, and reflects the longstanding and close military ties between the hemisphere's two largest democracies. Admiral Faller will be accompanied by former Ambassador to Brazil Liliana Ayalde, currently serving as the Civilian Deputy and Policy Advisor to the Commander.
About U.S. Navy Admiral Craig Faller:
U.S. Navy Admiral Faller assumed command of SOUTHCOM on November 26, 2018, and is responsible for all Department of Defense security cooperation in the 45 nations and territories of Central and South America and the Caribbean Sea. In his first 90 days as SOUTHCOM commander, he has visited Colombia, El Salvador, Guatemala, Honduras as well as Trinidad and Tobago to hear partner-nation perspectives, concerns and ideas, and express the command's unwavering commitment to its enduring partnerships with military and public security forces in the region.
Embajada de Estados Unidos en Brasil
---
Encontro define detalhes de exercício multinacional que vai acontecer na Argentina
O 32º Comitê do Sistema de Cooperação entre as Forças Aéreas Americanas (SICOFAA), que reúne representantes de 14 países em Brasília (DF), encerra nesta sexta (08/02). O encontro serviu para discussões e tomadas de decisão sobre o Exercício Cooperación VI, que vai acontecer entre os dias 3 a 12 de abril em Mendonza, na Argentina, voltado para treinar ações de ajuda humanitária em caso de desastres naturais.
O exercício visa à preparação de militares das Forças Aéreas americanas para atuações conjuntas em apoio a catástrofes. Esse tipo de trabalho já foi necessário em situações reais, como o terremoto no México em 2017.
Segundo o Secretário do 32º Comitê, Coronel Aviador Gerson Aparecido Cavalcanti de Oliveira, durante o encontro foi realizada a Final Planning Conference (FPC) do Exercício Cooperación VI. Trata-se do último estágio de planejamento de um exercício, com a conclusão de documentos operacionais que vão reger o evento. "Ficou definido que o cenário simulado será o de um terremoto seguido de tsunami que teria acontecido na Colômbia. Isso porque o próximo exercício, Cooperación VII, que utilizará meios aéreos, será naquele país", explica.
Na simulação, as principais ações treinadas serão evacuação aeromédica, transporte de suprimentos aos atingidos pela tragédia, evacuação de pessoal que está em área de risco e ações contraincêndio – que, na Força Aérea Brasileira (FAB), são realizadas pelo C-130 Hércules.
"Foi muito produtivo. A Força Aérea Brasileira realizou um evento de excelência, onde foram concretizados todos os objetivos propostos", avalia o Coronel Cavalcanti.
---
VOLVER