Belice vota el referendum para llevar la disputa territorial con Guatemala a la Corte Internacional de Justicia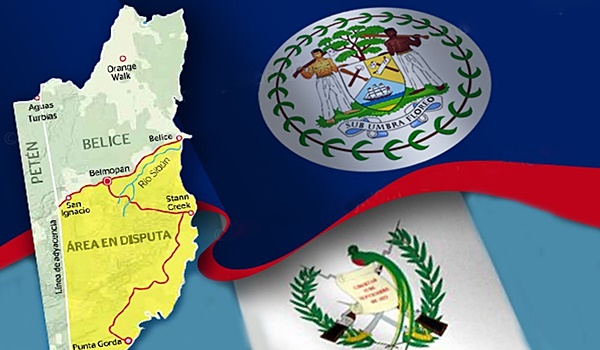 Beliceños votan en referendo sobre disputa territorial con Guatemala
Los beliceños acuden hoy a las urnas para votar en un referendo la decisión de someter a la Corte Internacional de Justicia (CIJ) una antigua disputa territorial con Guatemala.
La consulta popular estaba prevista para el pasado 10 de abril, pero fue pospuesta por el presidente del Tribunal Supremo, Kenneth Benjamin, para analizar en profundidad un recurso contra dicho proceso interpuesto por la oposición.
Luego del análisis, los votantes fueron convocados para hoy y deben responder si están 'de acuerdo que cualquier reclamo legal de Guatemala contra Belice relacionado a varios territorios debe ser sometido a la CIJ para una decisión final y para determinar los límites de los mismos.'
Un total de 148 mil beliceños están llamadas a votar por el sí, que defiende el primer ministro Dean Barrow, o por el no, que respalda el líder de la oposición John Briceno.
Barrow subrayó que la consulta 'es un tema de importancia nacional que no debe dividir a los ciudadanos.'
Una misión de observación electoral de la Comunidad del Caribe se encuentra en Belice para el referendo.
Guatemala reconoció la independencia de Belice en 1991, pero continúa reclamando aproximadamente 11 mil 30 kilómetros cuadrados del territorio de Belice (que comprende desde el río Sarstún, en el sur, hasta el río Sibún, en el norte), así como centenares de islas e islotes.
---
148,500 to decide on ICJ
On December 8, 2008, nearly eleven years ago, in Washington, USA, at the headquarters of the Organization of American States, the governments of Belize and Guatemala signed an agreement, called a Special Agreement, or compromis, to submit Guatemala's territorial, insular and maritime claim to the International Court of Justice (ICJ), subject to the approval of the peoples of both countries.
The countries agreed to hold referendums simultaneously, on the same day, at which referendums the question would be put to their peoples. Attempts to hold the referendums on the same day failed and Belize, acting on the request of Guatemala, allowed that country to go ahead and hold its referendum, which it did, on April 15, 2018. Guatemalans voted overwhelmingly to submit their claim to the ICJ.
Tomorrow, May 8, 2019, Belizeans will decide if they agree to go to the ICJ. Belizeans have agonized over the question for a long time, and today, just hours before they go to the polls, many are still not sure if they will vote YES, or if they will vote NO. There is no confusion in the minds of Belizeans about what YES means, and what NO means – they both mean NO GUATEMALA. The question is, which is best for Belize.
At seven in the morning, tomorrow, May 8th, polling stations will be opened across the country, in thirty-one constituencies, from the Hondo to the Sarstoon, from Benque Viejo to Halfmoon. The Elections and Boundaries Department says that 148,500 persons have registered and those who turn up at the polling stations will be given a ballot with the question:
"Do you agree that any legal claim of Guatemala against Belize relating to land and insular territories and to any maritime areas pertaining to these territories should be submitted to the International Court of Justice for final settlement and that it determine finally the boundaries of the respective territories and areas of the Parties?"
There will be two answers on the ballot: YES, and NO. If you believe that the best course for Belize is to go to the ICJ, place your mark in the box beside the word, YES. If you believe that the best course for Belize is to reject the ICJ solution, place your mark in the box with the word, NO.
Chief Elections Officer, Ms. Josephine Tamai told the press that the results of the referendum could be known as early as midnight on May 8th. A simple majority will decide the outcome. Belize's referendum law had a requirement of 60% voter turnout, but after Guatemala complained the referendum law was changed to a simple majority.
Chief Elections Officer Tamai said that they would not be reporting on the voting by constituency, electoral division. Tamai explained that the voting is for the entire country, so they will confine themselves to compiling the totals for the YES and for the NO. Tamai said her department will set up a media center at the Biltmore Hotel, and as the Returning Officers relay the information to them, they will be checking it and posting it to the nation at intervals.
---
Observer Of Politicized ICJ Referendum Explains 'Why You Should Vote 'YES'
Imagine for a moment that the place where you have lived all your life, and your grandparents, and great grandparents, and great-great grandparents had also lived at that same place, and then a neighbor started to claim a piece of your yard.
Of course you would be fuming angry and ignore the neighbor. But after some time and heated confrontations and probability of fights breaking out, the parties agreed to settle it in court if all the family members on both sides agreed to settle it in court.
What happened then is that some members in your family that have also lived there for donkeys years, decided to not go to court and would rather handle the heated confrontations themselves.
The next time I write a short article I will do so in "braad Kriol", So that you may better understand my reasoning to say to you 'my brother and sisters' in this beautiful land of ours. Please think of the consequences and possibilities of voting NO. Because we are all in this together.
So, I ask those who may think that a 'NO' vote is the best course. "If the people voted NO, What happens next ?" , and if the situation turned bad after a NO Vote, you cannot then change your mind and decide to go to the ICJ.
---